ISAL offers the opportunity to present the most recent results of research and development to continue the established traditions of this conference to be able to promote a bright future for automotive lighting.
Held every two years since 1995, ISAL is organized and hosted by the Laboratory of Adaptive Lighting Systems and Visual Processing of the Technical University Darmstadt in the impressive and representative congress center darmstadtium.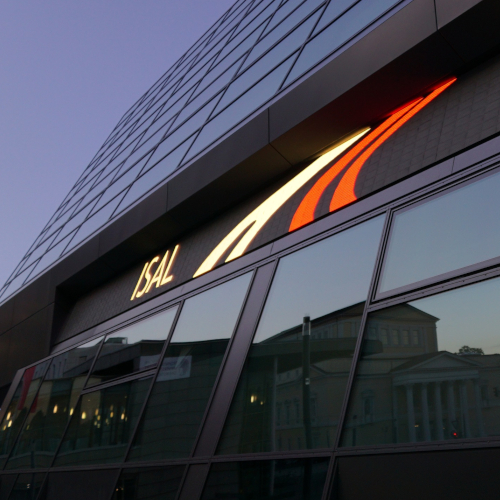 Picture: FGLT
Save the date!
ISAL 2023 September 25 -27
Thank you to all presenters, exhibitors, and visitors for a successful ISAL 2021!
This year over 600 visitors from all over the world attended ISAL both in-person and online. We thank each and every one for their contribution to educational and inspirational discourses and an overall successful conference.
Thanks also go out to the darmstadtium congress center for their tireless work in making ISAL a success and to Calla by Gaul's Catering for the delicious food and drink offered during the symposium.
Congratulations to Mr. Anil Erkan for Best Paper, Mr. Christian Hinterwälder for Best Presentation, and Dr. Peter Hartmann for Best Video on Demand.
All Videos from the conference will be available by April 15, 2022, on https://app.isal-symposium.de/
ISAL 2021 may be over, but ISAL 2023 is just around the corner!
We look forward to welcoming you (back) to Darmstadt from September 25-27, 2023.
Your ISAL Organizing Team
The first symposium took place in 1995 in the "Kekulé" lecture room at the TU Darmstadt. Since then, more than two decades have elapsed, and the event's location has been changed to the immense and representative congress darmstadtium.
ISAL encourages the exchange between lighting engineers, road safety experts and regulative bodies. ISAL offers the opportunity to present the most recent results of research and development and promotes a bright future for automotive lighting.
Date
September 25 – 27, 2023
Location
Science & Congress Centre
Darmstadtium
Schlossgraben 1
64283 Darmstadt, Germany (30 km from Frankfurt/Main)
Conference Language
English (no simultaneous translation)
Proceedings
The proceedings are published as a book and are distributed at the Symposium. After the Symposium the proceedings are available at bookshops.
Registration
opens in Spring 2023
Programme
will be available early September 2023
| | |
| --- | --- |
| September 01, 2022 | Call for Papers – Abstract submission begins |
| February 28, 2023 | Abstract submission deadline |
| April 17, 2023 | Confirmation of paper acceptance |
| June 16, 2023 | Deadline full-paper submission |
| Spring 2023 | Start of ticket sales |
| September 25, 2023 | Opening and Get-together |
| September 26-27, 2023 | ISAL Symposium |
General
 
Name
Contact

Katherine Anne Chatziannidou

B.A.(Hons)

chatziannidou@lichttechnik.tu-...

Jens Balasus

M.Sc.

balasus@lichttechnik.tu-...

David Hoffmann

M. Sc.

hoffmann@lichttechnik.tu-...
Exhibition and Meeting Rooms
 
Name
Contact

Jens Balasus

M.Sc.

balasus@lichttechnik.tu-...
Proceedings
 
Name
Contact

Korbinian Kunst

M.Sc.

kunst@lichttechnik.tu-...
IT
 
Name
Contact

Stefan Klir

M.Sc.

David Hoffmann

M. Sc.

hoffmann@lichttechnik.tu-...
 
Name
Working area(s)
Contact

Julian Klabes

M.Sc.

Lighting Quality

Camera and Cine Technology, Color and Lighting Quality, Spectral Optimizsation of Multi-Channel LEDs, Cognitive Science, Biological Lighting Effects, Camera and Sensor Characterization, Pupillometry

klabes@lichttechnik.tu-...
ISAL hosts one of the largest and most dynamic international exhibitions focused on automotive lighting bringing together scientists, technologists, and key players. Leading companies in automotive lighting showcase their latest products, hardware and software solutions to a broad audience of more than 1000 visitors.
Car Exhibition (CE) spaces to present new innovations live on cars are only available outside on the plaza in front of the darmstadtium.
Prices and availability for all exhibition areas available upon request.
Booking for meeting rooms for ISAL 2023 available upon request.
Impressions of past symposia