6th LED professional Symposium+Expo 2016, Bregenz
Fachgebiet Lichttechnik unterstützt Europas führende LED-Konferenz
2016/09/26
Vom 20.-22. September zog das 6. Symposium für LED-Technologie in Bregenz wieder zahlreiche Fachleute aus Industrie und Forschung an. Zwei Wissenschaftler vom Fachgebiet Lichttechnik trugen mit Vorträgen über Farbqualität und LED-Alterung zur Veranstaltung bei.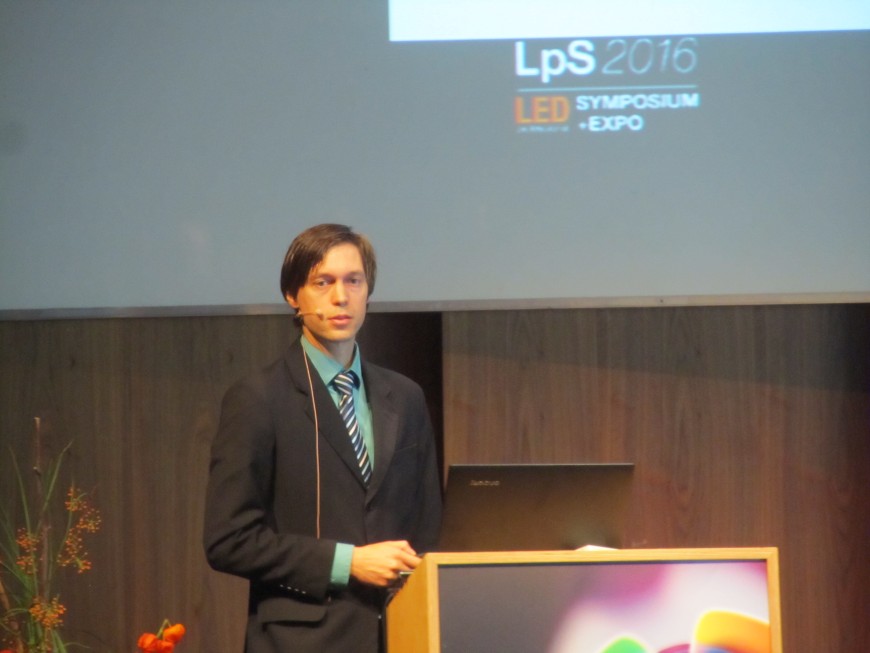 Mit dem Aufkommen der LED-Beleuchtung folgte eine größere spektrale Variabilität des Lichts, was zunehmend zu hohen Differenzen in der Farbqualität führen kann. Herr Dr. Bodrogi erläuterte in seinem Vortrag "Color Quality of LED Illumination: Metrics and Experimental Data" die neuen Metriken, mit denen Farbqualität in Zukunft besser quantifiziert werden kann. Außerdem präsentierte er das neue Buch von Tran Quoc Khanh, Peter Bodrogi, Trinh Quang Vinh mit dem Titel "Color Quality of Semiconductor and Conventional Light Sources" (Wiley-VCH, 2016).
Unter die sechs besten wissenschaftlichen Paper reihte sich das Thema "Life-time Calculation of White HP-LEDs from 16,000 Hours Aging Data" ein, vorgestellt von Herrn Wagner. Die darin vorgestellte Analyse einer Langzeituntersuchung von Hochleistungs-LEDs erläutert unterschiedliche Lebensdauerberechnungen und betrachtet auftretende Alterungsursachen.
mw