8th LED Professional Symposium+Expo 2018, Bregenz
Fachgebiet Lichttechnik unterstützt Europas führende LED-Konferenz
2018/10/02
Vom 25.-27. September zog das 8. Symposium für LED-Technologie in Bregenz wieder zahlreiche Fachleute aus Industrie und Forschung an. Das Fachgebiet Lichttechnik bereicherte die Veranstaltung mit einem Vortrag über thermische Analyse von LED-Packages.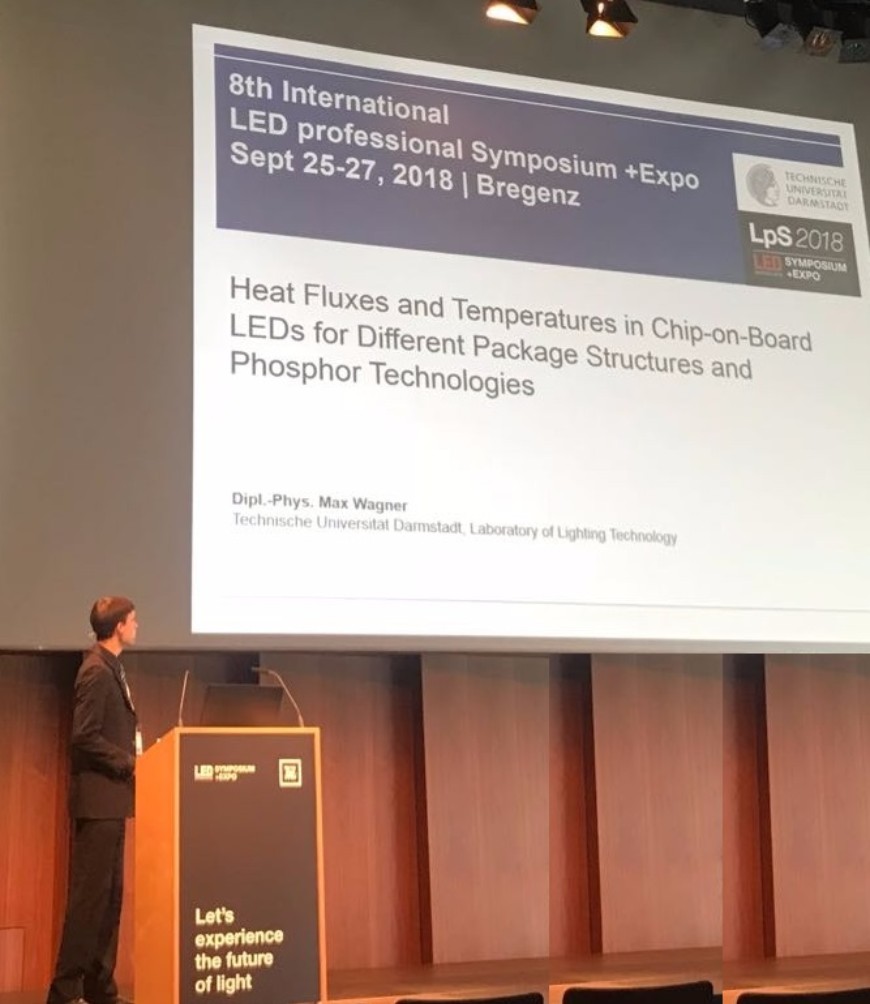 Die LED-Technologie dringt in den letzten Jahren in immer weitere Themenbereiche ein, dies war auch auf der diesjährigen LED-Konferenz LpS 2018 in Bregenz zu spüren. Dazu zählten unter anderem Human Centric, Connected und und Horticulture Lighting. Dipl.-Phys. Max Wagner erläuterte in seinem Vortrag "Heat Fluxes and Temperatures in Chip-on-Board LEDs for Different Package Structures and Phosphor Technologies" die Bedeutung von Wärmeflüssen in verschiedenen LED-Packages. Die dabei vorgestellte Analyse zeigt, dass für jede Art von LED-Package (High Power, COB, Mid Power) die im Betrieb entstehende Wärme fast ausschließlich mittels Wärmeleitung über die Leiterplatte abgeführt werden muss.
Beim Netzwerk-Event und während den Pausen zwischen den einzelnen Sessions gab es regen Austausch zwischen den Teilnehmenden aus Wissenschaft und Industrie. Dabei wurde neben dem fachlichen Diskurs auch über das ein oder andere zukünftige Projekt nachgedacht. Das internationale Publikum gepaart mit einer tollen Kulisse des Bodensees macht diese Konferenz immer wieder zu einem besonderen, inspirierenden Erlebnis.